Achieving Equity Takes 'Unified, Comprehensive Campus Community of Support'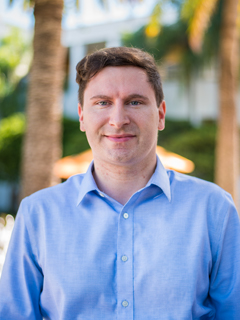 Joey Kitchen grew up outside of Akron, Ohio, in a low-income household, and he was the first in his family to go to college. Today he's Joseph A. Kitchen, Ph.D., an assistant professor of higher education at the University of Miami who is quickly becoming a leading scholar on the role of college transition and support programs in promoting success among first-generation students like himself and those from low-income and racially minoritized backgrounds.
His work to promote equitable outcomes in education is central to a recent special issue of the journal American Behavioral Scientist devoted to "Supporting First-Generation, Low-Income, and Underrepresented Students' Transitions to College Through Comprehensive and Integrated Programs." Kitchen was co-editor with Dr. Adrianna Kezar, Wilbur-Kieffer professor at the University of Southern California and director of the Pullias Center for Higher Education, and he was co-author on three of the articles.
A key takeaway from the studies in the journal is the value of comprehensive programming and unified communities of campus support in promoting the success of underserved students, addressing student needs in a holistic, comprehensive fashion, rather than through disconnected, boutique programming that tackles issues related to student success separately, such as first-year experience courses.
"Colleges and universities just aren't set up well to support first-generation, low-income, and minoritized students, and they tend to privilege certain ways of knowing and being over others, robbing these student groups of the opportunity to succeed," said Kitchen. "Instead, a comprehensive, holistic perspective that recognizes students as whole people with many facets that deserve attention and support is needed to enable students to fully actualize their innate potential and capabilities during college."
Such a comprehensive, holistic perspective characterizes the two integrated programs examined in the edited journal: the Thompson Scholars Learning Communities (TSLC) at the University of Nebraska and the California State University STEM Collaboratives. Both efforts coordinate and align comprehensive support in a single initiative to address students' academic, social, career, and interpersonal needs with the goal of addressing institutional barriers to success, creating college environments where promising underserved students will thrive and succeed.
Of special interest for him was conducting research with Kezar and Liane Hypolite of USC's Pullias Center on the development of major and career self-efficacy as an important psychosocial outcome for first-generation, low-income, and minoritized students, as they are more likely to persist toward earning a degree when they can see a connection between their college education and future job prospects.
However, career support is often targeted later in college, when students are nearing graduation. In contrast, "the TSLC program focuses on major and career development early on, connecting students to a curated ecology of major and career-related activities to help students develop confidence in their major and degree path and confidence in their capabilities for success in their chosen paths," Kitchen noted. "By taking such an approach, the low-income, first generation, and minoritized students in our study reported significantly higher levels of confidence in their major and career path compared to the control group, which bodes well for their retention and success."
In a similar vein, Kitchen's exploration of proactive advising's impact on underserved students' confidence in their academic capabilities recently appeared in the Journal of Student Affairs Research and Practice (Kitchen, Rivera, Cole, & Hallet, 2020). Based on their study of the TSLC comprehensive college transition program, the researchers proposed a comprehensive, holistic, and empirically grounded proactive advising model to promote academic confidence among first-generation, low-income, and underrepresented, minoritized students.
"Not all advising is created equal," Kitchen explained. "The institution often assumes students know about available advising and support services when they come to college and will seek them out when they need them, but first-generation college goers may not have that kind of familiarity. Moreover, much of the focus of traditional advising is on registration, for instance, and there's often a 'get in, get registered, get out' mentality. 
Proactive advising is different, and places the responsibility on educators to actively engage and offer support to students. In the proactive advising model developed by Kitchen and colleagues, proactive advising goes beyond traditional advising, engaging students in a proactive, comprehensive, and holistic way. This is critical to ensure that students are getting the support they need early on, on their path toward achieving their academic goals in college. By taking a holistic, comprehensive approach to proactive advising, educators can direct students to support that is appropriate for their needs and will help cultivate each individual's confidence in their capabilities for academic success.
For example, in Kitchen et al.'s proactive advising model, educators reach out mid-semester to check in with students, asking them how they are doing both academically and socially/personally, and to engage students in conversations about where they stand in terms of achieving their personal academic goals. "Sometimes they need to be directed to tutoring or study skills support, or to undergraduate research opportunities to reach their academic goals, which is more academic," said Kitchen. "But sometimes it may be that they have family commitments, or social adjustment issues that are affecting their ability to reach their academic goals, which is more personal." By taking a proactive, holistic perspective, educators in this proactive advising model can better match support with students' needs early on, and help them feel more confident that they have the tools and support necessary to successfully meet their academic goals.
Expect more of this kind of research from Kitchen, as he is committed to creating new knowledge that not only enriches daily practice in colleges and universities but also carries forward the mission of higher education, one step closer to a more equitable society.